Primary Venue:
Storybook Farm, Chapel Hill, NC
ProgDay will once again take place on the beautiful grounds of Storybook Farm located just west of the towns proper of Chapel Hill and Carrboro, North Carolina. Storybook Farm is located just off of Jones Ferry Road at:
Storybook Farm, One Storybook Lane, Chapel Hill, NC 27516
B. The stage...
• PARKING & TRAFFIC
Parking at Storybook Farm is just outside of the main gate. For reasons of safety and to keep traffic to a minimum within the Storybook grounds, no vehicles are allowed beyond this point except for Patrons,
performers and vendors.
For those new to the festival, please be aware that there is a walk of a few hundred yards to get to the stage from the main parking area. When walking to and from the parking area, please respect the property of those who live on the Storybook grounds and walk along the road. Patron Pass holders may park near the stage pavillion in their designated area.
The speed limit at Storybook Farm is 15 mph. There are families with children who live on the property, and on dry days the dirt road to the stage can create a lot of dust. Attendees will also be walking along the road to get to the performance area. Please be safe and considerate and drive slowly.
• FUN IN THE SUN
Typical weather for Labor Day weekend in the Triangle area is very hot and humid. While Storybook Farm is ringed by forest, there is no shade from the sun in the audience area in front of the stage. For your comfort and safety, we strongly recommend bringing lots of sun screen, hats, sun glasses and other protection from the sun, and lots of beverages. Many attendees bring sun umbrellas, canopies, and even tents (which often give ProgDay the feeling of a caravan that's just made camp). Please do not take this recommendation lightly. If you do not come prepared, the heat and sun could interfere with your enjoyment of the festival.
• FOOD & DRINK
Our food vendor for 2022 is still to be determined. Please check back later for more information.
---------------------------------------------------------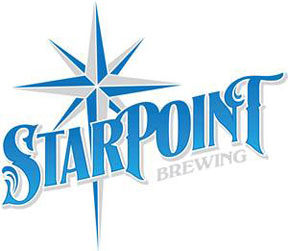 Starpoint Brewing will again be at Storybook Farm with a selection of their excellent beers.
E. Late afternoon...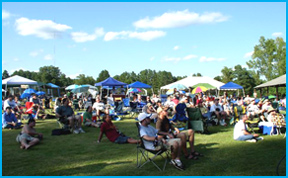 In addition, attendees may bring their own refreshments.
Grills are allowed, but no open fires.
Alcohol is permitted.
• WHAT SHOULD I BRING?
Besides bringing ample protection from the sun, coolers and lawn chairs are allowed and encouraged, as are frisbees, footballs, beach blankets, hammocks, kites, picnic lunches, and anything else that will help you have a good time. However, please be considerate and refrain from activities that might be distracting to other members of the audience. If in doubt, please move to another part of the field where it is not an issue. Storybook Farm is a big place and there is ample room for everyone to enjoy themsleves.
SHELTER NOTE: If you have a tent or sun shelter, please set up in the back so that the view of the stage is not blocked. We ask that you do not erect anything closer to the stage than the soundboard.
You might want to consider a light rain coat or umbrella
in case of drizzle.
• SUPPLIES ALONG THE WAY
While there are many places to buy supplies along the way to ProgDay, there is a large grocery store (Food Lion) conveniently located where NC-54 Bypass connects with Jones Ferry Road. If you are coming from NC-54 Bypass, the store is on the right, at the top of a hill just after you turn left from the NC-54 ramp onto Jones Ferry Road, headed towards Storybook Farm (#6 in the driving directions). This is only about 5 miles down the road from Storybook Farm's main gate, which makes for a quick trip if you discover you need something after arriving at the festival.
G.
• PLEASE CLEAN UP
ProgDay functions through the efforts of volunteers. The people that direct you to your parking space, that take your ticket at the gate, that work the ProgDay vendor table, that run bands back and forth from the hotel to the venue and back again, and that do the scores of other little things that keep ProgDay rolling, are all volunteers. They've bought a ticket to the festival just like you, but they are donating part of their ProgDay experience to helping out. At the end of the day, any mess that attendees leave behind must be disposed of by volunteers who would much rather be heading out to dinner after the show. So please help out ProgDay and our volunteers by cleaning up after yourself during the festival.
• SECURITY
For ten years ProgDay was held without incident. However, over ProgDay weekend in 2004, property of the Metal Shop at Storybook Farm was vandalized. Whether this unfortunate offense was perpetrated by ProgDay attendees or not, ProgDay was held accountable for the cost of the damages. ProgDay does not have the resources to absorb this kind of expense. As a result, please be aware that none of our audience is allowed near any of the residences or businesses at Storybook Farm. This includes the swimming pool, stone house, metal shop, gardens, fruit trees, pond, greenhouses, nursery, or any other private structures on the grounds. We must necessarily be strict in our enforcement of this policy and anyone found in any of these areas will be escorted from the festival. Please understand our position and use common sense in this matter.
Thank you.
Backup Venue:
The Arts Center, Carrboro
In case of bad weather, the official ProgDay backup venue is:
The Arts Center
300-G East Main Street
Carrboro, NC 27510
919-929-2787
If the festival is forced to move indoors, performances will take place at the intimate Earl Wynn Theater within The Arts Center complex. This is a non-smoking venue. A selection of beer, local brews and wine is available at the concession.
For more information, please visit The Arts Center web site.
Important Notes
IMPORTANT NOTE ABOUT WEATHER:
Being outdoors is a big part of the overall ProgDay experience and ProgDay organizers will make every effort to keep the festival at Storybook Farm. However, if a hurricane or torrential rain becomes a possibility, a decision about moving indoors will be made by the Friday evening before ProgDay. If it is decided to relocate to our backup venue, an announcement will be posted on the ProgDay Facebook page by early Friday evening.
IMPORTANT NOTE ABOUT THE HEAT:
For your safety and to maximize your enjoyment of the weekend, being prepared for the hot weather at ProgDay is very important, so we are mentioning this once again. Usually the weather is VERY hot and humid. Please remember to bring adequate protection from the sun and plenty of liquids to drink.
IMPORTANT NOTE ABOUT ALCOHOL:
Previously, if ProgDay should move indoors, we had arranged for coolers to be allowed inside The Arts Center complex. However, there has been a change in permitting since that arrangement was made and outside alcohol is no longer allowed.
IMPORTANT NOTE ABOUT TICKETS:
The capacity of the Earl Wynn Theater at The Arts Center is 330 people. To prevent overselling the backup venue, advance ticket sales for ProgDay will be limited to 300 Weekend Passes. If the festival is held at Storybook Farm, then capacity will not be an issue. However, if the festival is held at The Arts Center, we can't guarantee how many tickets will be available at the door. Single Day Passes will be sold at the gate/door on the day of the show subject to availability. So if you know you are coming to ProgDay, we recommend purchasing tickets early.